Do you know having a suitable and best heat lamp for Iguana can help them to live healthily and for a long time?
Good lighting is one of the essential needs which help in keeping your Iguana healthy and surviving. If there is no provision for good lighting in the Iguana cage, then your Iguana will suffer and then will ultimately die.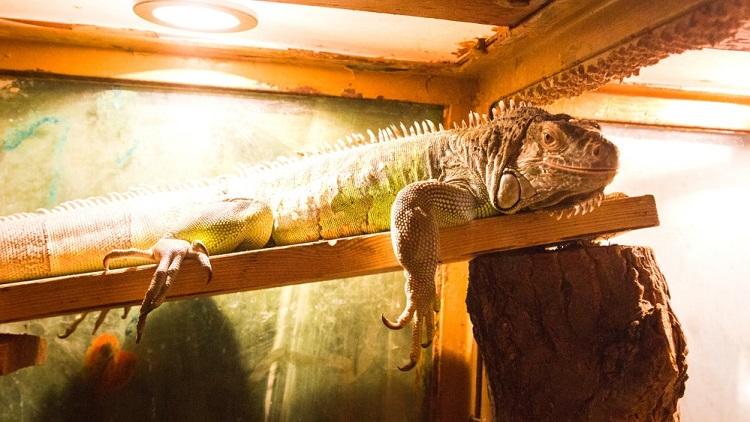 If your desire is that your Iguana lizard should survive as a healthy lizard, then you surely should invest your time in finding the most suitable heat lamp for them. Here are some of the best heat lamps that you can use.
Summary of Heat Lamp for Green Iguana
The most essential aspect which enhances the health of the Iguana is the heat. If your Iguana is getting the right amount of heat on a regular basis, then there are high chances that it will live a long healthy life. This is for the simple reason that Iguanas cannot use their own internal heat for survival and that is why they need to have a reliable source of heat in their shelter.
Read more: Top 4 Best Iguana Cage Reviews 2019
Keeping this need in mind, all the products or the heat lamps mentioned in this article are designed to offer the right and sufficient amount of heat that an Iguana needs. These heat lamps can be used by the Iguanas to absorb the desired heat so that their body can be warm enough to perform and function.
These heat lamps can offer and maintain different temperature ranges which help your Iguana to get the needed temperature as and when needed.
Top 5 Heat Lamp for Iguanas Reviews
If you do not know how to provide both UV light as well as heat for your pet. Then bellow are 5 top heat lamps for iguana which can help you keep your lizard warm in a large habitat.
Zoo Med Repti Sun 10.0 UVB
Talking about the best heat lamp for Iguana, Repti sun is the one name which will not disappoint you with its performance. This is one of the best heat lamps for Iguana which can keep the Iguanas all satisfied by delivering them with the desired amount of heat.
It comes with the perfect combination of full spectrum, 10% UVB output and UVA rays in 30%. To ensure delivering the proper and perfect use of UVB heat, it comes with UVB transmitting glass quartz.
It also contains a compact light burning screwed using the sockets which are threaded in the standard style. It assures the users that they don't need any separate ballast for this heat bulbs. The overall impact of this heat lamp ensures that the Iguanas are getting enough amount of light and heat for their healthy survival.
On one hand, the UVB rays ensure to minimize the possible bone diseases to occur while on the other hand, the UVA rays are suitable for feeding, mating, basking, etc. You will be totally satisfied with the performance of this heat lamp for Iguana.
Pros:
Offers a perfect balance of UVB and UVA heat
No need for a separate ballast
Comes with UVB transmitting quartz glass
Eliminates bone diseases
Cons:
Exo Terra Heat-Glo Infrared Spot Lamp, 120-Volt
Exo Terra heat lamp comes with a number of features and benefits which makes this heat lamp as one of the best options available in the market. One of the distinguishing benefits that come in this heat lamp is the fact that along with performing all the functions of a normal heat lamp, it can also be used to emit infrared heat wave for the Iguanas.
It comes with an in-built reflector with which the users can redirect the heat in any direction that they want. Thanks to the special filament available on the bulb, it produces the right amount of infrared waves. The red glass available along with this helps in transmitting the same to the desired place.
Another thing that should be noted is that the reddish light of this heat lamp will not interrupt in the normal activities of the Iguana. It can be used effectively during both day and night. It can also be used to enhance the air temperature of the Iguana cage and can also last longer.
Pros:
Reliable heat lamp
Can increase the air temperature
Transmits infrared light
Offers in-built reflector
Cons:
Zoo Med Repti Deep Dome Lamp
Making the best use of large and long lamps, this Zoo Med heat lamp comes with an additional dome excess. This extra excess can be seen in such a way that it delivers a balanced amount of light and heat to the Iguana for a long lasting and healthy living.
It is included with a ceramic strong base which offers an easy button access to switch this heat lamp off and on. It comes with an extended reflector which prevents and makes sure that the lamp doesn't stick out.
To enhance the temperature of the UVA and UVB lights, this heat lamp is designed with aluminum interiors. The aluminum interiors ensure that the lamp can easily handle and balance the high amount of heat output delivered.
You can use heat bulbs with 160-watts of power in this heat lamp fixture. It can also be pulled a little forward to properly screw the bulb every time before the use.
Pros:
Can be used for large bulbs
Aluminum interiors
Can handle large heat outputs effectively
Comes with extra-large dome excess
Cons:
Requires manual efforts for checking the fixture.
BYB 150-W 110V Ceramic Infrared Heat Emitter Brooder Coop Pet Infrared Lamp Bulb
This heat lamp is perfect for Iguanas living in high humidity. This heat lamp can last for the maximum of 417-days which is quite enough and reliable. This saves the users from the extra cost of changing the bulb after every few days.
This heat lamp works the best with E-26 socket. Thus, to be sure of getting the desired performance, you should use a porcelain socket with this heat lamp. It performs using 150-W of power and 110-120V of voltage.
The one thing that you should keep in mind is to wait for at least 1-hour, to touch the heat emitter, after turning this heat lamp off. This will help the users to avoid dealing with being scald.
This heat lamp can offer the right amount of heat for 24-hours without emitting any additional light. Therefore, your Iguana will get all the required heat without being disturbed by any light.
Pros:
Regulate air temperature
Promote healing and Iguana's health
Can last really long
Cons:
Non-light emitting heat bulb.
Evergreen Pet Supplies 100-Watt UVA UVB Mercury Vapor Lamp
This is the perfect daylight bulb for your pet Iguana which can offer them with the desired amount of heat. One of the major advantages that come with this heat lamp is that it can be used with any enclosures. Thus, it offers high compatibility with almost all the enclosures.
It offers your pet Iguana with the perfect balance of heat and light without disturbing them with their regular activities. It is completely self-ballasted and thus prevents the emission of harmful UVC rays.
It does offer the desired warmth and vitamin to the Iguana just like they get in natural sunlight. The heat emitted by this heat lamp is conveniently suitable for the Iguanas and thus benefits them with improvement in their health and proper functioning.
Evergreen Pet Supplies 100 wattage heat lamp is tested thoroughly for its quality and has generated satisfactory results every time. As a result, it is one reliable and a trust-worthy heat lamp that you can use.
Pros:
Offers the perfect balance of heat and light
High compatibility with all enclosures
High-quality and reliable heat lamp
Cons:
Suitable for all types of reptiles; thus not specific for Iguanas
Value of Heat Lamp use for Iguana
Your pet Iguana needs well-balanced UVA and UVB rays for living a healthy life and also to keep their body functioning. This is one of the values that the suitable heat lamp will provide to the users for the proper maintenance of their Iguana.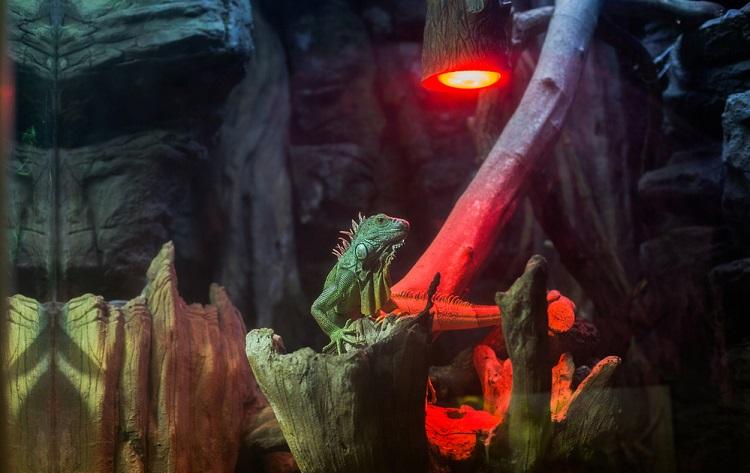 Care enough to know more value that the heat lamp can add? Here are some of the attractive values that can be expected:
Nutrients absorption
The available UVB heat waves ensure that your Iguana gets the proper amount of nutrients for their survival. This is something that can keep your Iguana active for performing all their desired functions effectively.
Prevent bone diseases
In order to regulate Iguana's biological functions and to prevent the various bone diseases, they need the UVA rays from the heat lamp.
Living a long and healthy life
As lizards cannot integrate their own internal body temperature, they need the heat from the external sources such as heat lamps.
Conclusion
One of the best ways of providing the desired amount of UV heat to your Iguana is by keeping them under direct sunlight. But, do you think it can be done on a regular basis? Well, certainly not and that is why you need the best heat lamp for Iguana. You can make a choice from any of the heat lamps mentioned as each one of them is excellent in its performance and reliability.
If you still need any information or detail about the heat lamp for Iguana, then please do comment below. Also, please feel free to share any of the desired suggestions about using the heat lamp for Iguana.