Just like other critters, your reptile also needs water to survive as well as stay healthy. For reptiles living in their natural habitat, they can get water from the live foods or the plant materials. If you are keeping a reptile with you, you have to give them clean water.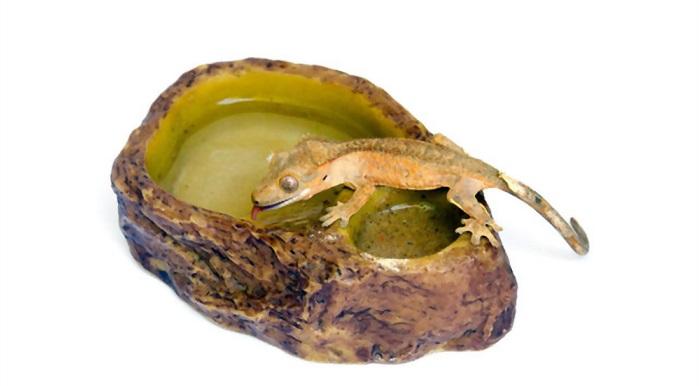 You need to find ways to keep your reptile hydrated. There are some good water dishes you can use for your reptile. Some of them play a role as a food dish. You should choose a dish with low sides to let your pet drink with ease. The dish you choose also should be durable and easy to clean. If you are going for a water bowl for reptile, you're in the right place. We will introduce our top 5 products on the market now.
You may like:Top 4 Best Iguana Cage Reviews 2020
Top 5 Best Water Bowls for Reptiles
Bellow are some of the best Reptile water bowls and food dishes with many range of sizes. These feeding dishes are perfect for Iguanas, bearded dragons and other small reptiles.
Exo Terra Water Dish
This is one of the best water bowls for your reptiles. The brand offers you a variety of choices of a small, medium, as well as XL-sized dish. With the XL model, your pet can soak himself inside the bowl.
In addition to functional, this reptile bowl comes with a natural outside finish. Moreover, it brings a smooth surface. Therefore, you can clean it with ease. This also helps to prevent bacteria from thriving on it.
Moreover, there are also ramps to let your reptile crawl in/out. This feature is especially ideal for smaller reptiles. This model actually looks nice in a rainforest, desert, as well as tropical terrariums thanks to the neutral colors. However, some customers said that it seems to be smaller than they thought.
Zoo Med Reptile Ramp Bowl
You can choose from small, larger, and extra-large bowls if you choose this brand. The extra-large size is perfect for lizards such as bearded dragons, toads, snakes, frogs, salamanders, and more.
There are also so many different colors available to choose from. Therefore, it's easy to choose one that fits your furniture as well as tank accessories. With this water bowl, your reptile can access in/out with ease.
Another great thing is that it is made of washable and unbreakable materials. This is also a lightweight unit with the weights of only 1.8 pounds. Plus, it is also an affordable water bowl out there.
Zoo Med Reptile Reservoir
With this water bowl, you can maintain clean drinking water for your pet continuously. It is built with a small basin. It helps to keep your reptile away soiling. This model allows you to clean with ease.
Moreover, it comes with a broad base as well as a cricket guard. It ensures to stop accidental tipping.
When it comes to the best reptile water bowls, we have to mention the Zoo Med Reservoir. It's especially ideal for busy schedules because it can keep all the water your pet needs.
Zoo Med Repti Water Dish
You can use this item to keep your pet's food and water. It is an excellent combo for both feeding and watering your reptile. It is designed with a smooth surface. There are no pits. Therefore, you can clean it without any problem.
Moreover, the product is leak-resistant. It also won't get stained. At the same time, you haven't to worry about bacteria thriving on it.
Another excellent point of this water dish is that it is built with polystyrene material. Therefore, it is able to against harsh use conditions. In addition, it comes in small, large, and extra-large sizes.
Fluker's Water Reptile Corner Bowl
If you are looking for a natural-looking water bowl for reptile, don't forget this model. It is known as a high-quality product on the market. It is designed to operate well into the corner of the terrarium.
This consideration is good for those who plan to save space. Indeed, it provides your reptile with more space to himself. Furthermore, it's also simple to clean. It gives you some choices from small to large sizes.
It comes with a superb corner bowl. However, it is still too deep little. Therefore, many pet owners decide to choose this one.
Frequently Asked Questions about Reptile Water Bowls
How Much Water Do I Have to Give My Reptile?
Well, your reptile needs 10 to 30 ml of water per kilogram of his body weight. Actually, a bearded dragon has a weight between 0.62 and 1.1lbs. It means you need to give your reptile 4.5 to 15ml of water depending on your pet's weight. However, you can't determine the exact amount of water he needs because he can get some amount of water from the fresh and live foods.
How often Should My Reptile Drink Water?
The fact is that your reptile can thrive well in arid, desertic, as well as semi-arid areas. Therefore, they can thrive greatly even when they don't drink water often. Your reptile can get water from many different live feeder insects, veggies, greens, or fruit treats.
It's not essential to concern if your reptile hasn't been getting much water because he can live even when he doesn't take water. More importantly, you have to make sure you keep them hydrated.
Does My Reptile Drink Tap Water or Distilled?
Which type of water do reptiles drink? Should I provide my reptile with a tap, distilled, or bottled water? The most recommended is a bottle or tap water. If you give your pet tap water, it's a good idea to add Zoo Med ReptiSafe since it will help to eliminate any chloramines and chlorine, as well as detoxify nitrates.
In addition, it can also help to balance between ions and electrolytes. You shouldn't give your pet distilled water since the distillation process may get rid of 99.9% of vital minerals.
Conclusion
It's easy to see that reptiles have rough skin. However, you shouldn't judge reptiles by their appearance. Moreover, they also require quite a complicated and uneven drinking regime. In fact, your reptile may become dehydrated regularly. Hopefully, this article can bring you more info about reptile water. Also, hope you can choose the right water bowl for your reptile. Last, wish your reptile always healthy.